Day 10: Top 10 Good Things About Being a Tripawd
In honor of my 10th day post-amp, I've put together a Top 10 List (Letterman-Style) for the Tripawds Community:
10.  Breakfast in Bed:  My pawrents have been kind enough to bring me breakfast in bed every morning.  I think this may be coming to an end soon as I'm more than capable of eating standing up, but I'm going to roll with it for as long as I can.
9. Ease of the pee:  I don't have to lift up a leg anymore to pee!  It's very handy.
8.  Muscle Tone: Because of the core strength I now need to get around, my little beagle body is getting ripped!
7.  Walks!  I can go on walks again!  I wasn't allowed to go on walks when we were trying to get that paw pad healed.  But now I get to go out on walks several times a day, and Dad even let me climb the hill on our street so I could enjoy the ocean view.
6.  The Park and Beach!  I haven't been to the park yet (Mom says no until I get my sutures out), but I get to go to the park and beach again with Izzy and Henry with our pawrents and on Tuesdays and Thursdays with our dogwalker, Roxy.
5.  Free Rides:  Even though I can get around just fine, people feel compelled to carry me.  I am inherently a lazy dog, so this is a great development (although again, I suspect it is coming to a close).
4.  Attention:  Everyone loves a tripawd.  Period.  I am getting so many bellyrubs, and it only strengthens the power of my Beagle Mind Tricks to obtain more snuggling or treats.
3.  Feel better without that paw pad:  While the fourth leg was handy, I'm so glad that the painful paw pad and its infection is off of my body.  I don't have any pain when I walk, and I have more pep in my step.
2.  Closer snuggling:  I don't have that extra leg to come between me and a human.  Instead, I can snuggle right up to them as close as possible without that pesky extra leg getting in the way.
1. King of the Pack:  Izzy and Henry really haven't cared that I have only 3 legs, but they know I've been through something tough and are showering me with attention and kisses.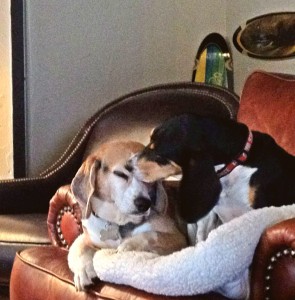 Other updates.  I probably should have been more clear before, but I was diagnosed with histiocytic sarcoma.  I realize sarcoma is more general.  We have an appointment on Thursday to get the next steps started.  Keep those paws crossed!
My pawrents worked on making the house WB-friendly over the weekend.  Dad put on carpet runners on the stairs down to his man cave so I can hang out with him while he's working from home, but he isn't letting me try it out until the surgeon gives it the thumbs up.  He found instructions for easy installation on This Old House's website:
http://www.thisoldhouse.com/toh/how-to/intro/0,,20616418,00.html
I probably won't post again until after the Thursday appt with Dr. Burke at Veterinary Specialty Hospital, but stay tuned!
Wilhelm III