Happy New Year: Chemo Done!
Happy New Year to the Tripawds World!
I hope everyone ate too much over the holidays, and enjoyed time with their friends and family.  This year, I was able to walk in the famous Ocean Beach Holiday Parade with the other Sunset Cliffs Animal Hospital dogs!  I almost walked the entire route (almost 2 miles!) on my own.  When I needed a break, I hopped in my friend Max's wagon and caught a ride for a few blocks.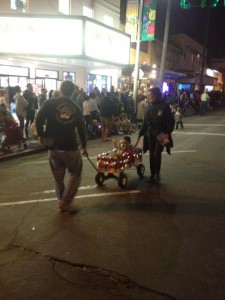 After a while, I wasn't a fan of the wagon, so Louie gave me a lift for a couple of blocks too.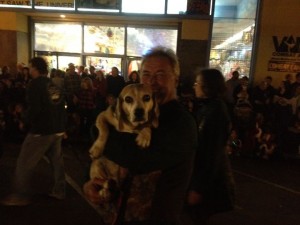 My parents were traveling a lot, but our favorite dog walker, Roxy, and our Auntie Jamie took great care of us.   I helped Auntie Jamie open one of her Christmas presents – a new coffee maker (which was apparently exciting for her – I prefer to avoid caffeine so I can snooze all day . . . ).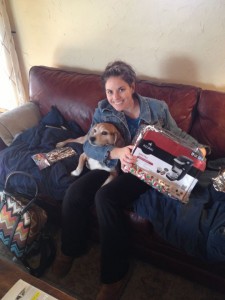 And, most importantly, we've received some great news to start 2013!  During my tri-weekly appointment with Dr. Burke this morning, he decided that I did not need all six chemo treatments and that four would do the trick considering my energy levels, blood work, and lack of any signs that the cancer spread beyond my icky paw pad.  I don't have to go back for three months!  I am super excited because this means I get my post-chemo burger that my parents promised me when chemo started back in early October – whoot whoot!
Over and out for now, and keep your paws crossed that I've seen the last of that icky cancer.
Próspero año nuevo y muchos besos,
Guillermo III