One Month Later!
Hello Tripawds World:
I just realized I am one month into my life as a tripawd, and I must admit I can't complain.  I still get to do all the things I love, and now can use my tripawd status as a means to leverage more love and attention (insert evil laugh).  My pawrents got back from their European tour in one piece (well, mom picked up some stitches and a nice shiner from a fight with a surfboard, and the surfboard won), and were thrilled with how much progress I made while they were gone.  The best part is that they have jetlag and get up before dawn, but stay in bed with me and give me mucho snuggle time.
I admit I felt a bit low energy after my first round of chemo, but I rebounded quickly and now zoom around the house (particularly when someone says the magic "treat" or "biscuit" words).  I have no problems at all getting up and down the stairs and around the yard, and I'm going to the park regularly with the rest of my pack.
One thing I didn't think about is sunblock!  As you know, I'm quite a sun lover, as demonstrated below.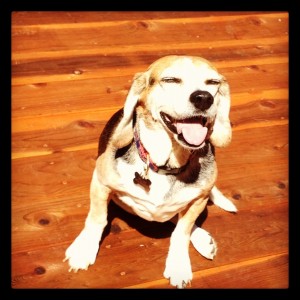 While my hair is growing back, it isn't quite yet back to pre-surgery form.  Plus, I don't have a ton of hair on my belly, and my little leg is no longer there to guard my lower tummy.  So, as you can see, I got a bit of a sunburn!  Now my pawrents lather me up every morning with some non-toxic sunblock so I can enjoy some QT on the deck.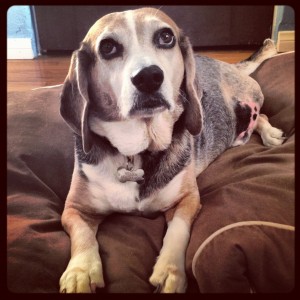 My next round of chemo is next week.  Then I'll be 1/3 of the way through!
Best,
HRH King Will-Beagle III
P.S. My mom wanted me to pass on thanks to everyone for all their kind posts, and that we'd love to meet up with fellow tripawds in the San Diego area.