Week Three: Sutures out, chemo started!
Hello World!
Yesterday was so eventful that I passed out before getting my entry posted last night.
Mom and Grandpaw took me to go see Dr. Burke, my oncologist, and Dr. Aiken, my surgeon.  Dr. Aiken gave me the thumbs up to get my sutures out and get the chemo party started.  Dr. Burke also examined me, and took a blood sample to make sure I was ready to start my chemotherapy.  Interestingly, the diagnosis was not as firm as we thought, so it still appears the tumor could have been the sarcoma or lymphoma.  We decided not to move forward with additional testing, because the treatment would be the same for either type.  Dr. Aiken took out my sutures, and then we headed home with the chemo pill.  Dr. Burke thought it was best to take the pill at home where I am comfy and relaxed.  I have an appointment with my vet at Sunset Cliffs Animal Hospital next week to have my blood drawn to check my white blood cell count levels.  I return to Dr. Burke in 3 weeks for my next round of chemo.  I will also start taking some mild antibiotics on Friday to help ward off any sort of infection while my immune system is a bit sluggish due to the chemo.
After the vet appointment, I joined Henry and Izzy at the dog park for my first park outing post-surgery.  I was zooming around the park for the first 30 minutes, but then I pooped out a bit and took a nap under a tree while Izzy and Henry were racing around like crazy beagles.
After a good snooze and dinner, Mom and Dad gave me my chemo pill and some anti-nausea medication just in case the chemo upset my stomach.  The chemo pill made me very sleepy, and Izzy kept me company during my snooze.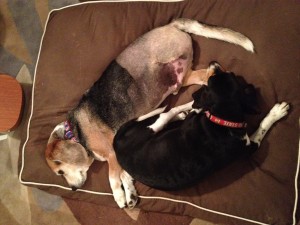 I slept pretty well through the night, but had a few moments of restlessness.  I woke up, got some quality snuggling time in, and then was ready for breakfast!  I ate a wee bit slower than normal, but I ate my full breakfast and haven't had any trouble keeping it down.  I've snoozed a lot today on our new deck with the Henry Beagle.  I really missed snoozing in the sun, so it was really excellent to be out there.  As you can see, the bruising is almost entirely gone from my belly, and my scar is healing quickly.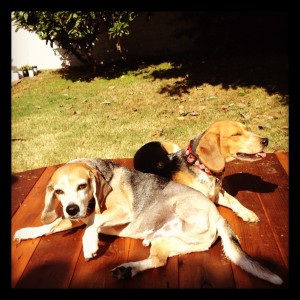 Just in case you're curious, Mom took the video below of me this morning in the backyard.  I always liked to walk along the retaining wall, but I was worried that I'd have problems with doing this with only 3 legs.  But as you can see, no problem!!  Also, I am having no problems with the stairs on the new deck (even covered with moisture from a super foggy morning in Point Loma).  Click on the link "WB on Deck" below:
My pawrents are leaving for Europe tomorrow morning.  I tried to talk them into packing me away in their carry on bag (I weigh less with only 3 legs!) but I should stay home and makes sure that Henry and Izzy behave for Grandpaw.  I told them to bring home some yummy French cheese for me, because I have only three legs (yes, I'm soaking it for all its worth).
Hugs and many kisses.
Guillame III