Day 12: C-Day Delayed
Friends:  As occurred many decades ago while thousands of brave souls readied to cross the English Channel as part of D-Day had to stand down due to inclement weather, my C-Day had to be delayed because must have picked up the stomach bug that plagued Izzy Lou over the weekend.  The oncologist does not want to start chemotheraphy while I'm feeling under the weather.  As you can see, I'm not feeling so hot: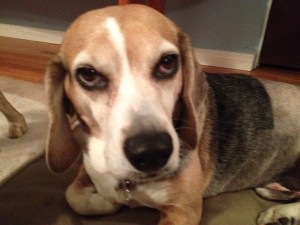 So, the start of the chemo party has been delayed somewhat to Tuesday.  While not ideal, at least Mom and Dad will be around for a couple of days before they head to Europe for Uncle Andrew's wedding, and my Grandpaw will be in town from Ohio to hold down the fort.  Izzy and Henry are helping me sleep it off (and I think Izzy is feeling guilty for passing this on to me).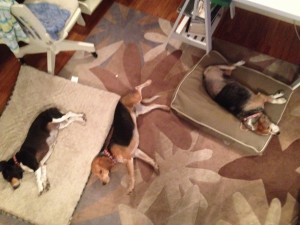 But I'm already feeling better.  I just lounged in the sun for a while, rolled in the grass, and then hopped up the new deck stairs all on my own!  I also tried to eat part of my Mom's chicken sandwich.  That beagle appetite can't be defeated by a stomach bug.  Harumpt.  My surgery scar has healed up nicely, and I was so looking forward to getting the sutures out today but I suppose a few more days won't be too bad.
I also want to thank my Auntie Shannon for my get-well-soon collar, so now I can show off my heritage.  I always enjoy new couture.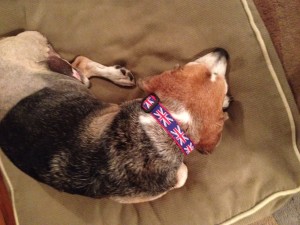 And with that, I'm back to my dog bed to sleep off this bug.  I'm hoping I can talk my mom into some rice and chicken out of this (always looking at the bright side of life, as the Monty Python boys like to say).
William Beagle