Chemo, Round Three, Check. Now, Time For Turkey!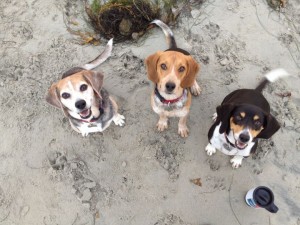 Hi Tripawds Nation.  Apologies for being incommunicado, but I've been too busy with my trips to the beach and the park, and just generally being a dog again!  Time has been going so quickly that I just realized I'm over three months from my amputation, and my friends and family are really surprised by my progress.  It really hasn't slowed me down very much at all.  In fact, I just went for a short jog with my dad around the neighborhood on a really steep hill.  I was tuckered out afterwards, but it was nice to feel the breeze flapping through my ears.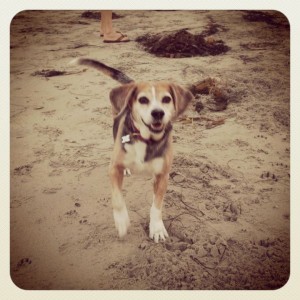 I had my third round of chemo last night.  We had a great appointment with Dr. Burke, who said that I was in the best possible position to kick this thing for the foreseeable future.  My energy levels are great, my bloodwork is coming back with strong results, and Dr. Burke was very pleased with how well I get around on three legs.  There are no signs of additional tumors or negative changes.  I'm much happier after the vet appointments are done and we are on our way home.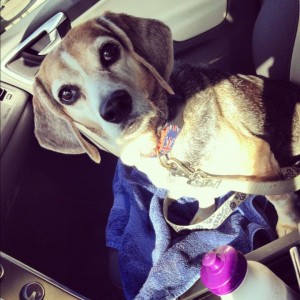 I am so excited because our friends are coming over for Thanksgiving at La Casa de los Beagles!  Dad is smoking a Turkey, and there is going to be plenty of food.  It will be the culmination of the past three months work in cultivating my "I have only 3 legs, so you should give me your food" look.  I'll report back and let you know how it goes.
Mom just reminded me that I should focus on what I'm thankful for this year instead of how much food I'm going to eat.  Well, I am thankful for the food I'm about to eat.  But I'm also thankful for all the love and support that I've received from my family, friends, the tripawds world, and the excellent care from all my vets.  Thank you all!  I'm also thankful that I can live life to its fullest now.  That said, give up the turkey.  Winky smiley.
I thought y'all would like some videos of my progress, so here is one of me at the beach and one at the park.  As you can see, I'm a happy dog and I'm zooming around (especially when food is involved).
Happy Thanksgiving!!
HRH WB III