Day Eight: Sarcoma. Boo.
Well, all, the verdict is in.  My mom talked to Dr. Aiken at Veterinary Specialty Hospital and the biopsy results indicate that my tumor was sarcoma.  Next step, chemo.  It's an odd case – either I had the sarcoma for years and it didn't go elsewhere, or it's a recent development.  I continue to be a medical marvel, so hopefully that trend continues to a successful recovery.  I have an appointment on Thursday with Dr. Aiken to get my sutures removed (whoot whoot!) and to get ready for chemo (boooo!). Dr. Aiken said that my pawrents absolutely made the right choice to amputate my leg in light of the sarcoma diagnosis because it would have been hard to ensure full removal of the tumor with just a paw pad removal.
After receiving the news, we decided to have a lazy morning and watch the Buckeyes get a win (albeit a sloppy one) in bed with Mom.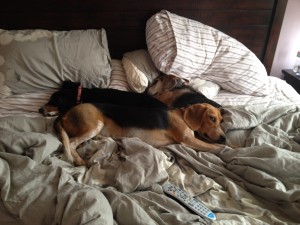 There have been some positive developments, though.  Last night, I woke mom up by standing up on my one back leg, and put my two front paws on the mattress.  I hadn't been able to do that before!  Mom brought me up on the bed and I got to snooze the rest of the night with my pawrents.  I also attempted my first hand stand while going to mark on my neighbor's tree so I could lift up my back leg.  My cousin April (a Boston Terrier mix) does it all the time even though she has both back legs, so I thought I'd give it a whirl.  I didn't stay up for too long, but I'm sure I'll get the hang of it soon.  Also, very little panting or shaking and Henry Beagle is able to put his head on my incision without it hurting me.  Nearly all the bruising is gone too, which is lovely.
Now we're off to go watch UCLA, which has fallen behind to Oregon State.  Mom went to UCLA for law school, and we've had several years of football misery, so it would be nice to have a good season for UCLA.  Ahhh, college football Saturdays.