Day Seven: No news, but staying positive
Hello Friends – No news so far on the tests on my paw pad, unfortunately.  But we're keeping up those positive thoughts!   I slept through the entire night last night, and even got to snooze on my pawrents bed for a few hours before mom moved me down on to the dog bed on the floor.  That was neat, as my favorite place to snooze is snuggled between mom and dad.  Ms. Izzy has been getting that privilege since my surgery, but I hereby provide notice to Queen Isabella that I will soon be reclaiming my royal rights as the senior monarch to have the prime position in bed.  As you can see, she likes to push the boundaries on my sleeping domain.  Also, as a side note, I can't wait to get out of this bloody cone.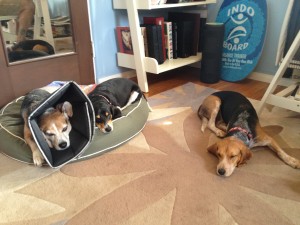 We're continuing to enjoy the new deck, and Mom let us head out to enjoy it a bit and lounge in the sun.  Louie and Charles are putting in an extra step for me so it's easy for me to get in and out of the doggie door.  We'll call it King William's Stair.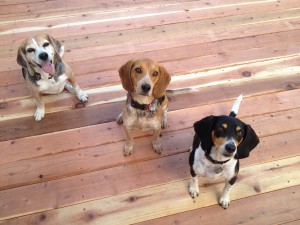 I still was having some panting/shaking fits even without the patch, probably from the tramadol.  From my paw pad struggles, we had some leftover gabapentin, so my mom tried that instead of the tramadol based on suggestions from other tripawd blogs.  So far, I'm calmer and able to sleep more soundly.  I may get some leftover shakes, but we sorted out that if I go on a short walk/potty break, I settle down quickly and take a quick post-walk snooze.
But so far, almost one week out, I have to say that I'm doing better than expected.  While the extra fourth leg may have been handy from time to time, I'm getting around just fine.  As my favorite rastafarian, Bob Marley, sings, "Don't worry about a thing, 'Cause every little thing gonna be all right!"