Day Six: Who needs the fourth leg anyhow?
Hello all – My mom got the camera out today to show everyone my progress, so this will be a visually heavy blog entry (even with its first movie!).
First, I'm doing so much better without that bloody patch.  I'm much calmer today, and have slept like a champ.  When Izzy and Henry went to the park with the dog walker, I got some QT in the backyard alone under the watchful eye of Louie and Charles while they were working on my deck.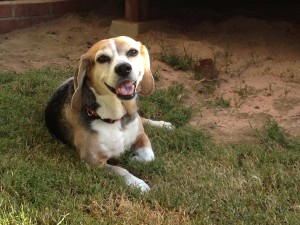 When Izzy and Henry got back, we all decided to take an afternoon snooze.  I'm sleeping much better now that the patch is off,  and the pain is diminishing.  As you can see, Henry likes to sleep with me, which hurt right after the surgery, but today I didn't mind it as much.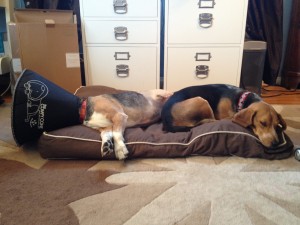 When I wanted to stretch out, I kicked Hanky Pants off my bed and he went over to snooze with Izzy with a brief stop to shread an envelope.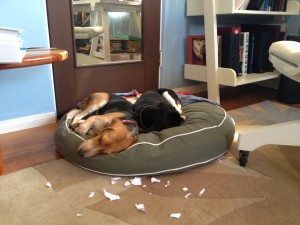 After our snooze, we got dinner (and I'm doing just fine eating it on all three legs), and then we went out to inspect our new deck.  Mom took advantage of the chance to take a video of my new strut (which is turned to the side because my mom can't figure out how to change it – she's technologically challenged sometimes).
All together, a smashing sixth day post-surgery.  We may find out the results of the tests on my offending paw pad tomorrow.  I'm rather nervous, but I figure it's best to know what we're up against and get the chemo party started.
Until tomorrow,
HRH WB III