I nearly slept through the entire night!  It felt great to get some solid snoozing in.  I only woke my parents up at 5am because I had to go outside to use the restroom.  Mom took me for a few short walks  – one was down the street, around the corner, up the alley, and into our backyard!  I visited Louie and Charles who are building a tripawd friendly back deck for me, complete with a ramp up to the doggie door – woohooo!  Mom let me lie in the grass and sun myself for 15 minutes, and it was glorious.  Lying in the sun is one of my favorite things to do  in the world (along with snuggling and food!)
I'm starting to get the hang of getting around with only three legs.  I am zipping around the main floor of the house, even over the hardwood floors.  I stood up tonight for the first time while eating dinner.  And, the most exciting thing is that I got that icky patch off my leg this evening, so I am less anxious and I am not panting as much, which is nice.  My bruising is going down slowly on my belly, but there is still quite a bit of red and some old fluid rolling around in my belly.
I'm also jumping up and down off the couch without any problem whatsoever.  Mom tries to discourage me when she can catch me, but I don't really have any difficulty with it at all.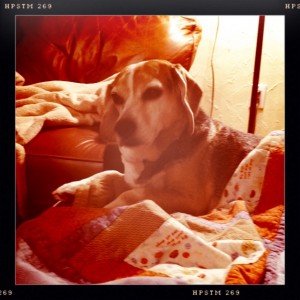 Unfortunately, I think I've developed a phobia of my kennel with everything that has happened lately.  Mom and Dad left me in the kennel for just a bit over an hour in the living room so I could be near my sister and brother, and I panted the entire time.  It was not fun.   We're going to have to figure out a different way to keep me in one place and separated from my siblings in case my pawrents need to leave me for an hour or so.
While I wouldn't say that this experience has been fun, it's brought me even closer to my pawrents.  If that's even possible.  They are with me 100% along this journey, and I think we're all valuing each day to the fullest just in case the tests on the tumor come back with bad news.  We should hear by Friday or so.  Keep those paws crossed!
Signing off for the day and off for a nice, patch-free slumber.
Hon. William Ferdinand Beagle